Following the Republican and Democratic Conventions in July, let us look at the different dynamics between the candidates and their selected Vice Presidents.
The abundance of Mutable signs in the candidates's chart is not surprising given the strong Mutable T-square in the sky with Saturn in Sag, Neptune in Pisces, and Jupiter in Virgo, with the transiting Nodes in Virgo/Pisces.
Synastry between Trump and Pence
Both Mutable Gemini Suns
Both Sun in Leo
Mutual Mars/Pluto conjunctions
Pence's Saturn square Trump's Neptune
Synastry between Clinton and Kaine
Clinton's Sun on Kaine's Jupiter/North Node
Sun trine Sun
Kaine's Uranus on Hillary's Mars/Pluto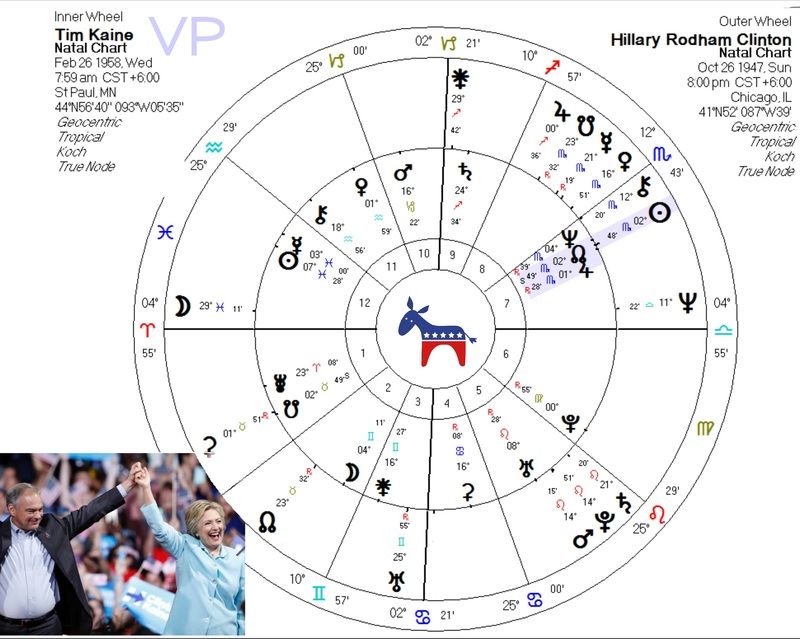 Trump's acceptance speech at the Convention
Dramatic Moon/Mars at 26 Aquarius/Scorpio lock on Trump's natal Mars at 26 Leo
Trump's controversy attacking the Khan's family of fallen soldier in Iraq
Chart of Soldier's death in comparison with Trump
Does Astrology also work posthumously?
We analyze the death of Captain Khan in synastry with D. Trump's chart and can identify exact -and challenging- aspects
= Pluto on T South Node + Nodes square T Pluto
= Chiron opposing T Saturn,
= Moon opposing his Mars...etc...
on June 8, 2004 near Baqubah, Khan was inspecting a guard post when a suspicious taxicab began approaching too quickly. Ordering his subordinates away from the vehicle, Khan ran forward 10–15 steps and was killed by a suicide car bomb fitted with an improvised explosive device. The car detonated before it could reach the gates or the nearby mess hall where hundreds of soldiers were eating breakfast.
Trump took the almost unthinkable step of publicly escalating a feud with the parents of fallen US Muslim solider, Capt. Humayun Khan, who blasted Trump at last week's Democratic convention as unfit for the presidency.