On

12 June 2014,

three Israeli teenagers were

kidnapped

in Gush Etzion, in the West Bank, (Israel Occupied Territories) as they were hitchhiking to their homes by Palestinian Hamas members.

On 30 June

, the Israeli military found

the bodies of the three missing teenagers

in a field north-west of Hebron. Prime Minister Benjamin Netanyahu vowed a tough response to the killings.

At 10 pm that evening (June 12, 2014), they were sighted at Alon Shvut Junction, after which they were not seen. One boy (GILAD) contacted a police emergency hotline to report the kidnapping at 10:25 p.m. Eight attempts were made to page the caller's cellphone, without checking its ownership, and the whispered remark was taken to be one of the many pranks that night

and four and a half hours passed before Shaer's family finally phoned the Talmon security coordinator to inform him their son Gil-Ad had not returned home. Only then did the security establishment take the case seriously, and Shin Bet and the IDF were alerted by the police. According to the Palestinian Ma'an News Agency, the last cellphone signal being made about 11:30 p.m. in the Hebron area.

Police placed a gag order re the abduction on Israeli news services by 13 June (the identity of the presumed kidnappers, acolytes of senior Hamas members, being known almost from the beginning to everyone in Hebron, but kept from the Israeli public.) and, in lieu of concrete details, rumours proliferated. Controversy soon raged in Israel over the police delay in reporting the call. At 11 am on 13 June, a "Hannibal" alert (meaning 'kidnapping') was issued.

According to Palestinian security sources, a Hyundai i35, with seating for 5,reportedly with Israeli license plates, was torched on the night of 12 June, and found by Palestinian police two kilometres from the village of Beit Einun near Hebron. This vehicle was believed to be connected to the abduction.The suspicion arose that the use of the Israeli sedan was a trick to lull the hitchhikers into believing the vehicle was driven by Israelis. It later emerged that on the first day,

the phone call registering the call for help, also recorded a cry of "heads down", a volley of automatic fire, a weak voice sighing 'Ai', silence and then one of the murderers shouted "three", the other notified someone of the deed by phone and both began to sing. The burnt car found that morning yielded evidence of numerous blood-stains.

Notwithstanding this, the Israeli authorities began to broadcast the message that the boys were abducted, not murdered.
CASUALTIES OF CARDINAL CROSS FIRES - The horrific cycle of hatred and revenge that continues to plague the Israeli-Palestinian dynamic.
THESE ARE SOLAR CHARTS
(no birth time)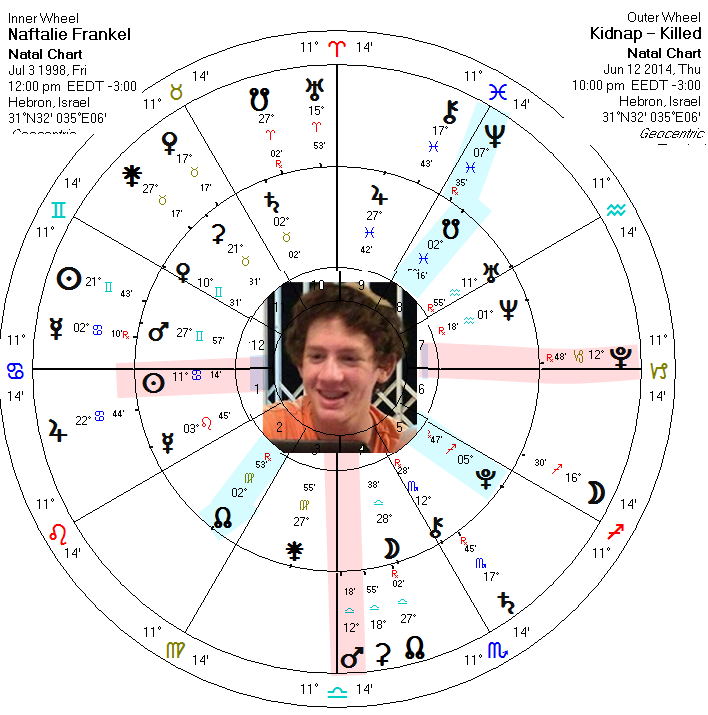 [
Gilad is the boy who managed to call the Emergency services - Strong Aquarius Mars/Jupiter shows his alert and quick mind. Unfortunately, the likely cause of their subsequent execution.